SkyLog Year Ahead Report
00015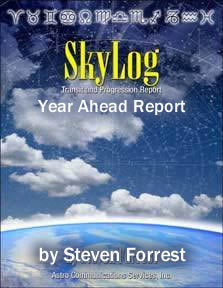 Personal Astrology Reports
Find out what the year ahead has in store with this personalized astrology report. Compiled using your birth info with text written by Steven Forrest, you'll find out how to make the most of the coming months.
Divided into 3 sections:
Long-term influences - Slower moving planetary aspects that will color the year with challenges and potentials for deep personal growth.
Medium-length Cycles - Opportunities for growth signified by Jupiter transits and other aspects that last for months.
Short Cycles - The day-to-day detail revealing how to make the most of each day.
Your SkyLog report covers 12 months and will be emailed to you within 24 hours during business hours. Approx. 65 to 75 pages in a pdf document that you can print and keep. Read a sample report for Miley Cyrus.
You will get the most accurate results if you have your exact birth time.
SPECIAL sale price through January 15! (regular price $45)
This computer-generated report is a great way to start looking at astrological timing. The report provides an easy-to reference guide to the most important planetary influences for the year ahead. But a report is no substitute for a one-on-one reading with a qualified astrologer. After you get your report, set up your year ahead reading with one of Steven Forrest's trained astrologers today!